Books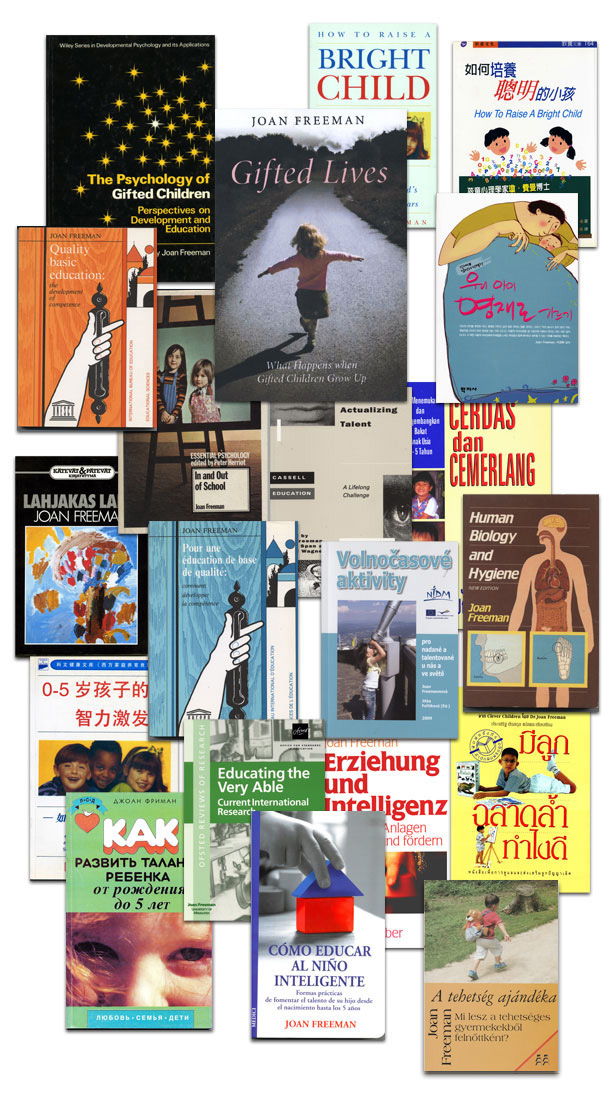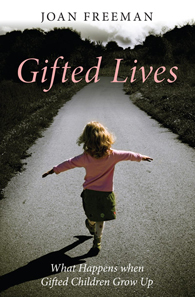 What Happens when Gifted Children Grow Up
Joan Freeman reveals the dramatic stories of some outstandingly gifted people as they grew from early promise to maturity in Britain. She has collected their intimate biographies through intereviews for 35 years. Their experiences and feelings throw light on how it is to be gifted and why some did not realise their potential,whilst others reached fame, fortune and happiness.
The gifted people in the book have a range of intellectual, social and emotional gifts, including mathematics, the arts, empathy and spirituality. As well as negotiating the basic trials of growing up, the particular abilities of these exceptional people often meant they were confronted with special emotional challenges, such as over-anxious and pushy parents, teacher put-downs, social trip-wires, loss of fun time, boredom and bullying in school and conflicting life choices. In their own words, they tell how seemingly innocuous events such as skipping one or more school grades could have life-long consequences. The reader can see the effects of a brilliant mind when you are ethnically different or suffering serious depression. And how a world-class pianist copes when repetitive strain injury strikes, or a young financier when he hits his first million.
Joan Freeman's interpretations and insights of the twists and turns of the lives of these extraordinary people are fascinating and deeply moving. She shows us that while fate played a large part in their successes, so did a personal outlook which could see and grab a fleeting chance, overcome great odds, and put in the necessary hard work to lift childhood prodigy to greatness. Readers will identify with many of the intriguing aspects of these people's lives, and perhaps learn something about themselves too.
Click here to read more about Joan's new Book.
"At last, an honest picture at what really happens to the gifted. Prof Joan Freeman's unique technique, combining controlled scientific investigation with her empathy with people in the real world, has produced the definitive up-to-date work in this field. She understands the psychology of having gifted abilities and its challenges, and has brought a breath of fresh air to this area of human development. I learned a lot and highly recommend it."
Prof Lewis Wolpert CBE, FRS, FRL, has been Chairman of the Committee for the Public Understanding of Science, and the author of many books including his popular Malignant Sadness: The Anatomy of Depression.
"A sensitive, probing and revealing analysis of the super-bright from childhood to middle-age by Britain's leading analyst of gifted children, Joan Freeman. Her gripping biographies expose the dramatic impact of life events on brilliant minds."
Brenda Maddox is a biographer whose books on Elizabeth Taylor, D. H. Lawrence, Nora Joyce, W. B. Yeats and Rosalind Franklin have been widely acclaimed. She has won the Los Angeles Times Biography Award, the Silver PEN Award, the French Prix du Meilleur Livre Etranger, and the Whitbread Biography Prize.
"Joan Freeman has written engaging and often surprising portraits of 20 of the 210 gifted children she has followed into adulthood. This book will inform not only parents, teachers, and scholars of giftedness but all those interested in the unpredictable course of individual lives."
Prof Ellen Winner, Psychology, Boston College, USA. Author of Gifted Children: Myths and Realities
"It is BRILLIANT. The people are fascinating and so is the text that links them all together. It is so informative and interesting. I am really enjoying it. It is remarkable how it will appeal to those in the trade and those who want a good but informative read. Just amazing."
Johanna Raffan, Director, National Association for Able Children in Education (NACE)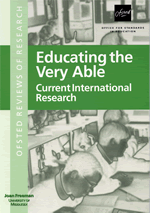 This book is unique because it is based entirely on a critical review of the scientific evidence. The conclusions describe how this can be put into action in a direct way. Educators and psychologists can see clearly what has been found to work and what has not. Special attention is given to questions of acceleration, enrichment, creativity, classroom organisation and school policy. No single style of teaching, though, can cater for the needs of all gifted pupils: neither general enrichment nor simple grade-skipping are sufficient.
Individual development of gifted children, including emotional development, thinking skills, gender and social effects are investigated. Some myths are demolished. The education of the gifted must be concerned with the student's self-regulation, flexible thinking skills and competence. Using this guide the proportion of children we now call gifted could be increased.
Click here to read the whole book online, free of charge
Reviews:

"essential reading for any researcher or educator embarking in this field"
British Journal of Educational Psychology

"This slim volume is a delight...not just a book for the shelf, but one to inform practice"
Educating Able Children

"genuinely useful source book...clear jargon free language … makes one want to continue to the end"
Education Today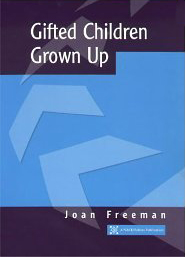 In 1974, Joan Freeman began her unique in-depth study of 210 children: the recognised gifted, the unrecognised gifted and their classmates as they grew up. This book describes what happened to them and their families, whether in poverty or wealth, through many types of schooling and very different life opportunities.
The young adults describe in their own words how it has been for them, and the author's interpretations are fascinating. Many myths about the long-term development of the gifted are are laid to rest.
There are valuable insights into their intimate feelings and situations, and suggestions for much needed changes in their care and education.These are not only important for their own fulfilment and happiness, but for the future of society.
Reviews:

"Joan Freeman us to be congratulated on a refreshing and original work which should be read by anyone who has the slightest interest in education, the psychology of abilities or even their fellow human beings."
Research Intelligence

"The field of education for the gifted and talented would be radically improved with more research of this calibre...I strongly suggest putting it on your reading list."
Roeper Review (USA)

"Others may claim to have highlighted the needs of the most gifted school children but it is Joan Freeman who has put it on the map and kept it there."
The Independent

"A highly enjoyable, readable, informative book, with a clear direct style, mercifully jargon-free and wholly unpretentious."
British Educational Research Association

"A book to be valued and should be read by all parents and teachers who care about their children."
Perspective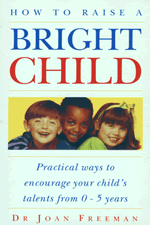 This enlightening, inspiring and popular book is designed to help parents develop their children's natural talents.
Joan Freeman gives advice on how to create a stimulating and enjoyable home environment at little expense, how to get maximum benefit from the early years at school and how to encourage enthusiasm and motivation throughout life.
Reviews:

"The strength of her book is in straightforward practical advice. As a christening present this book will do far more to help a child than the traditional mug."
The Guardian